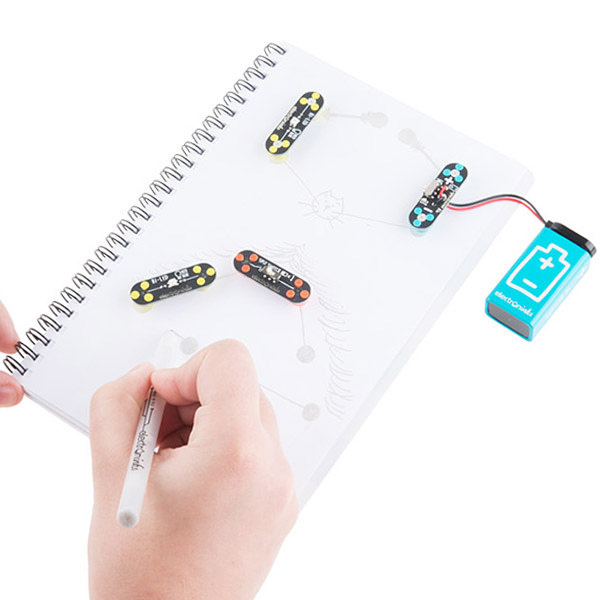 In class, we can combine innovative tools to build electronic circuit prototypes to reinforce the learning of theoretical concepts through practice.
In an educational environment, the application and use of technological didactic tools enable students to experience real-life, everyday problems in a safe setting. They can explore, test and solve situations that, in turn, promote collaborative work and problem solving in different contexts.
As an engineering professor, my proposal is to implement the use of technological tools to teach electrical circuits, in the basic science courses. The objective is to foster active learning by solving problems to reinforce knowledge acquired individually and collaboratively. Students will analyze, simulate and implement prototypes in which they relate theory to practice.
In class, we will employ kits for drawing and building functional electronic circuits on paper. With the use of conductive ink (Circuit Scribe) and the creative assembly of robots with Makeblock modules, experiential activities will be integrated into the teaching-learning process. These resources serve to achieve a more pleasant and participatory classroom environment, as well as a greater understanding of the applicability of theoretical concepts.
One of the expected activities for this project is the implementation of a digital board in which data is transmitted via Bluetooth and with an electric circuit editor (e.g. Pspice, Multisim, Circuit Maker and/or Orcad) to obtain voltage, current, electrical power, resistance, inductance, capacitance information, which would help our students to learn, identify and recognize the schematic diagrams of electrical circuits. Through these activities, students can detect electrical faults in any type of facilities, without having to use measuring instruments.
Another activity consists of automating the on-off switch of an energy-efficient lightbulb through sensors and mobile devices. This demonstrates the importance of automating lighting regulation systems that can be used in residential housing. The Project-oriented learning (POL) teaching technique will be used for every activity developed within this project.
The learning impact of these activities will be assessed through exams and the results compared with the performance of previous, traditionally-taught groups from the same campus, using their grade records.
In addition, observation guides will be applied in the basic science group while the activities are being carried out, in order to record students' attitude in their learning process. The results of the opinion surveys completed by students from electrical-circuit-related courses in previous periods will also be taken into consideration.
The expected outcome of this innovation is that the students will develop disciplinary competencies related to solving electrical circuit problems, and transversal competencies, such as intellectual curiosity, through the use of technological tools. Expectations also include achieving the capacity to extrapolate the application of new knowledge to other real-life scenarios and an improvement in students' performance, reflected in better grades and the generation of more efficient proposals.
If you are a teacher, or simply would like to learn more about the field of electronics, I would like to invite you to explore, discover and build the tools described in this article, then share your experiences and results with the Observatory of Educational Innovation.
About the author
Juan Carlos Alfonzo León (juan.alfonzo@itesm.mx) holds an M.Sc. in Electrical Engineering and is a full-time faculty member in the Department of Engineering and Architecture of Tecnológico de Monterrey, Campus Chiapas.