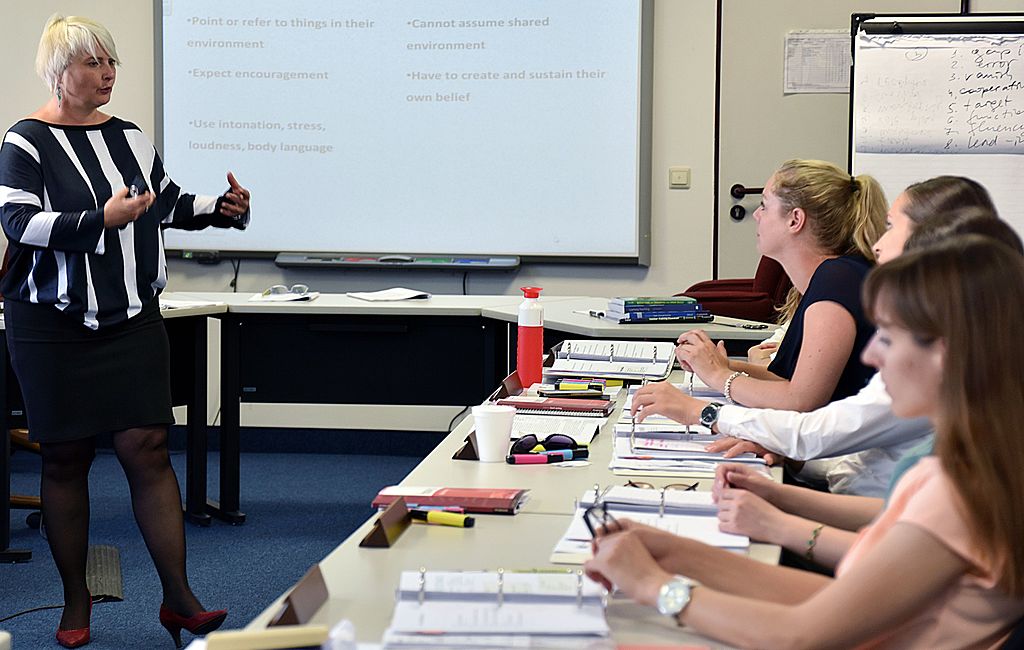 Several teaching tools have positive benefits for students if used correctly in language teaching.
What is a differentiation strategy in teaching practice? The topic can be better explained with the following adapted children's analogy about a school attended by different animals. Let's imagine that all the animals have to pass a swimming test. The duck easily crosses the lake, the mouse drowns in the attempt, and the ant refuses to go anywhere near the water. The outcome was that only the duck managed to pass the test. This example is similar to what happens in a real educational setting. Classrooms are made up of students with different abilities, which means that even if they are taught the same and take the same tests, not all of them will be able to obtain the same results.
Each person's comprehension capabilities for learning are different. Human skills can include the following types of intelligence: communicative, musical, logical-mathematical, body-kinesthetic, intrapersonal, interpersonal and natural.
What is the point of knowing which kind of "intelligence" a student possesses? Simply put, not everyone understands subjects in the same way. For example, when I explain a topic related to grammar in my German class, perhaps 80% or 70% of the students correctly understand the explanation. But, what about the other 20% or 30%? This is where the problem begins. Most of the time, teachers do not take the time to find another way to explain the topic, but merely explain once, and if the students understood, all well, but if not, they will at best ask a classmate for help or be left wondering, which generates disinterest and a loss of motivation to continue learning.
So, how can we narrow this gap? On the one hand, teachers must have the capacity to observe and detect whether or not a student understands the topic. How? The first step is to observe to determine whether the student can quickly answer questions, participates and completes the activities correctly. Teachers can use free online questionnaires as tools to check individual and group outcomes and decide whether or not to modify instruction. They also indirectly help teachers to get to know their students, what interests them, to fit the explanation to topics of their interest. In other words, if students like sports, music, a particular character from literature or movies, among others, the teacher can explain the topic by relating it to these examples. The idea is to work with topics in diverse formats, according to the students' abilities. This engages students and facilitates comprehension. With this objective in mind, educators should prepare classes in advance to reduce stress or anxiety when teaching the class.
Several teaching tools have positive benefits for students if used correctly in language teaching. They include the use of games in the classroom through applications such as Kahoot, in which students compete with each other by answering questions on the grammar and cultural topics studied in class, concerning the language they are learning. The site lyricstraining.com can be used for musical activities to look for songs in which students have to correctly write down the words or phrases they hear in the song in the corresponding language. Cultural information and educational material, such as short TV series, can be found in the Goethe-Institut, www.goethe.de. Also, the German television and radio network, Deutsche Welle, www.dw.com, offers slowly spoken educational material and news so students can understand them. All of these applications provide teachers options for more class material, ensuring that each student will understand the topic being taught.
It is also essential for teachers to implement different teaching methodologies, including collaborative learning and the questioning technique. Approaches such as Storytelling and Gamification are equally crucial since classes must be engaging and fun for students and teachers alike.
Technology is a key part of language teaching, but observation and follow-up of students' behavior by teachers are of equal importance to ensure that each student can achieve his or her full potential.
I want to invite you to explore the tools and options for language teaching presented in this article, and also to share your experiences and knowledge to improve instruction.
About the author
Yara Elena Iruegas Peña (yiruegas@itesm.mx) teaches German in the Department of Languages at PrepaTec, Campus Valle Alto.