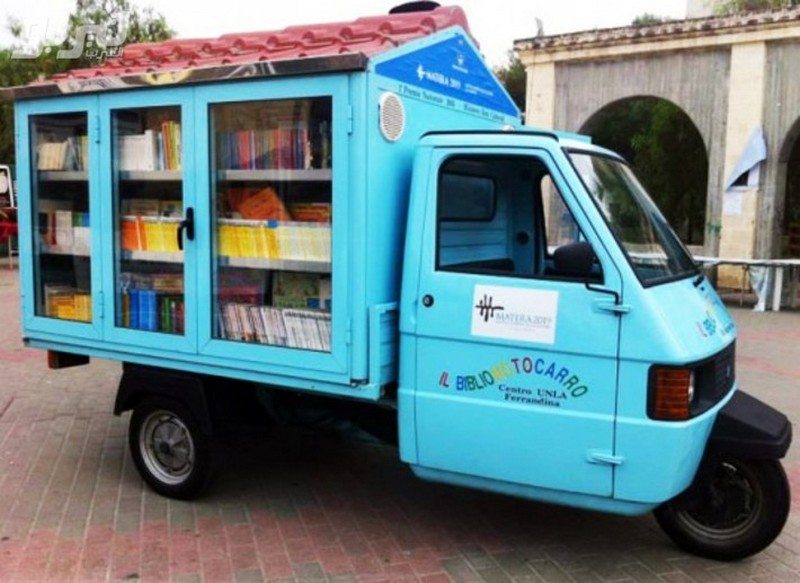 Despite being around for more than 160 years, mobile libraries still have a purpose.
Photo: The Owner-Builder Network
In a time when the digital content is abundant, the future of printed books and the buildings that keep them has been questioned more than once. We previously talked about Learning Commons spaces as a strategy to revitalize libraries. Another great instance to promote reading and the creation of educational communities, especially in far away or rural sectors, are mobile libraries.
Unlike Learning Commons, mobile libraries, are not a novel idea. They have been one of the most useful resources for massive literacy since the 19th century to date.
Historical overview
From teachers to writers and librarians, a lot of people have chipped in throughout history to procure an equal distribution of knowledge in the form of books. One of the first people to go mobile with libraries was George Moore. In 1857, the philanthropist made rounds in eight different villages to deliver books; he did it on foot, pushing a cart. By 1904 the People's Free Library used bigger carts, pulled by mules to get to different rural zones in the state of South Carolina.
The first example of a motorized mobile library came to be in 1920 when Sarah Byrd Askew used her Model T, the first car ever to be mass produced, to take books to rural communities in New Jersey.
Nonetheless, the global popularization of mobile libraries was achieved, in good part, thanks to a forgotten chapter in history: The Pack Horse Library Initiative. This project was part of the president's Roosevelt strategy to help the American people during the Great Depression; the idea was to tackle unemployment and illiteracy in one swoop.
It all started in Kentucky and recruited mostly women, something unusual at the time. Schools helped pay for the long travels the riders had to make to deliver books to towns that didn't have the means to get books delivered. The program became so popular that by 1938, near the breakout of WWII, it had 247 librarians riding 100 to 120 miles a week, reaching 29 counties.
Even after the founding of the project, do to the war, its existence had proven the value and effectivity of mobile libraries as a form of knowledge distribution.
Mobile libraries today
Even if nowadays joint efforts like The Pack Horse Library Initiative are not so widely needed to get useful printed content in a big scale, there are still a lot of far away regions with limited to no Internet access at all. Mobile libraries are vital resources for children in those places.
They also exist as a form of acknowledging the value of books as an educational instrument, as well as to generate hot spots for communities that encourage reading, education, and dialogue.
Says Antonio La Cava, a retired professor with a big passion for reading and teaching. He drives the most beloved mobile library in Italy. His little truck carries more than 700 books, which he takes across the Basilicata mountains.
La Cava argues that having the book they want in their hands at the moment they wanted is a fundamental right for children. He also explains that a healthy, balanced culture, comes from the constant search for new readers.
Additional to book delivery, La Cava also does workshops in the schools of the towns he visits, proving that these kind projects are not only about printed content distribution, they meant to teach how to use it as a learning tool.
It is true that digital content has been on an exponential rise in the last decade, but it's initiatives like this that let students experience all the extra things that make reading such an excellent learning resource. Like go out and get the book they need, get familiar with the task of searching a document in an organized system, to understand the value of the written word, to interact and share the love for reading with other people. There are a lot of reasons for which we can still say mobile libraries are still relevant —even in the small scale in which they operate— and for which we can assure that neither them or books are going to disappear in the near future.