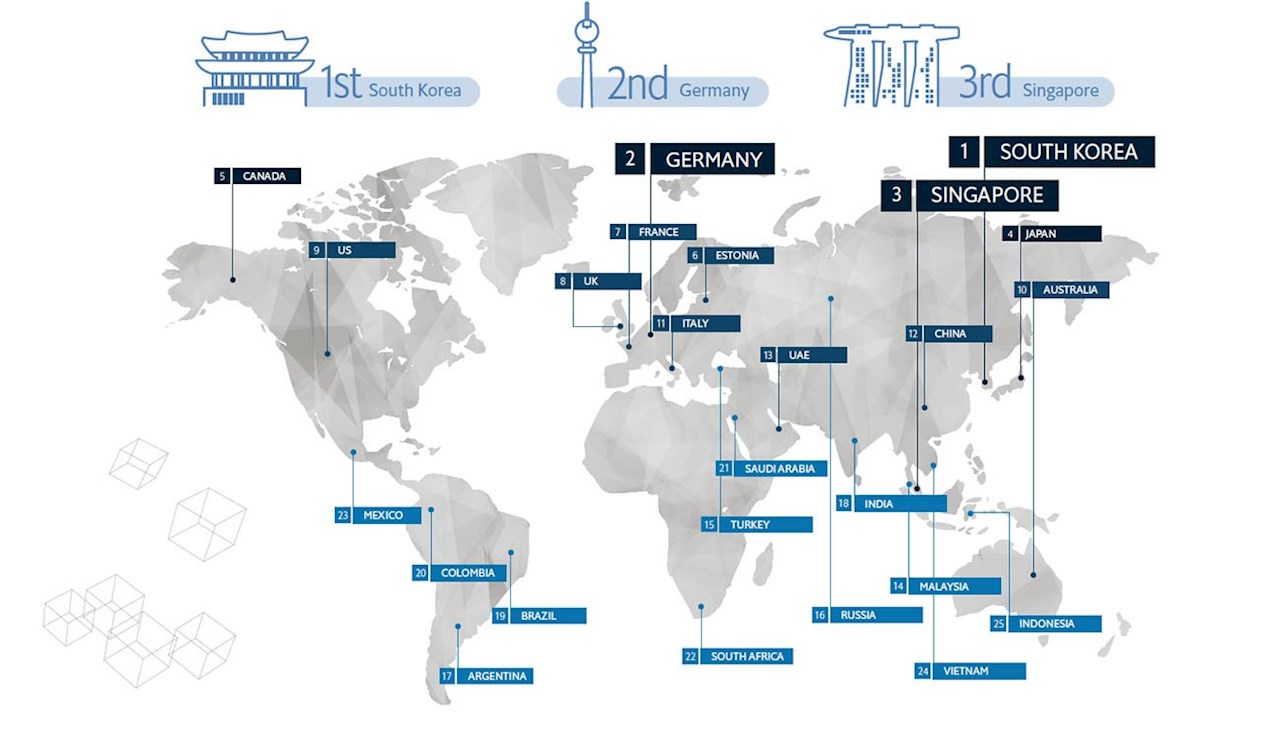 South Korea, Germany and Singapore are the most prepared nations for the coming wave of automation, according to a new report by The Economist.
Image: The Automation Readiness Index, by The Economist Intelligence Unit and ABB.
The rapid advances and sophistication of automated technologies will have serious implications for work and employment, and governments should be ready. South Korea, Germany and Singapore are the world's top-ranked countries prepared for automation, according to a new report created by The Economist Intelligence Unit and commissioned by ABB.
The report "The Automation Readiness Index (ARI): Who Is Ready for the Coming Wave of Innovation?" assesses how well-prepared 25 countries are for the challenges and opportunities of intelligent automation. The report found that even the countries most ready for the future of work must rethink education and training with a focus on lifelong learning to prepare people for the jobs of tomorrow.
"The report showcases the success pattern of the future. We must take advantage of these recommendations," says Ulrich Spiesshofer, CEO of ABB. "The pace of innovation and job change today is so fast that everyone must have access to lifelong learning. Augmenting human potential with technology, in a responsible way, while providing ongoing education and training, is an opportunity to drive prosperity and growth."
In addition to South Korea, Germany and Singapore, the top 10 countries best positioned to embrace the AI wave are in ranked order: Japan, Canada, Estonia, France, the United Kingdom, the United States and Australia.
Top 10 countries prepared for automation
South Korea
Germany
Singapore
Japan
Canada
Estonia
France
United Kingdom
United States
Australia
The analysis in the report is based on the ARI index, built by The Economist Intelligence Unit, as well as a series of in-depth interviews with experts from around the world. Rankings were determined based on a total of 52 qualitative and quantitative indicators selected in consultation with experts in automation, education and economics.
The study found that little policy has been made today that specifically addresses the challenges of AI- and robotics-based automation. "The vast majority of countries inside or outside the OECD are only starting to think about planning for the challenges of automation," said Elizabeth Fordham, senior advisor for global relations in the OECD's Directorate for Education and Skills. No countries are genuinely ready for the age of intelligent automation. However, few countries including South Korea, Germany and Singapore, the top-ranked at the index, have undertaken initiatives in areas such as curriculum reform, lifelong learning, occupational training and workplace flexibility.

The Automation Readiness Index focuses on three policy areas:
Innovation Environment: tracks the extent to which each country has policies and strategies in place to promote research, infrastructure and initiatives to take advantage of intelligent automation. Japan is the leading country in this category.
Labour Market Policies: automation is likely to displace humans, at least those engaged in automatable tasks. Therefore, governments require policies that promote worker mobility and flexibility as well as programmes that help to develop new skills. South Korea, Germany and Singapore tied equally in this category.
Education Policies: with automation, the skills required by employers will evolve and with it, the educational requirements of the workforce. This category tracks readiness for emerging education requirements. South Korea tops the list for Education Policies.

Some key findings from the research include:
The index leaders earmark considerable funding and support to AI and robotics fundamental research: the governments of Japan and South Korea, for example, channel hundreds of millions of dollars' worth of funds to public- and private-sector organizations that are conducting AI and robotics research.
Only a few countries have begun to address the impact of automation through educational policy: automation is expected to boost the importance of STEM education and soft skills.
Lifelong learning is becoming a rich area of experimentation: several governments are looking to encourage citizens to voluntarily undergo periodic skills upgrading.
Vocational training is not up to the challenges posed by intelligent automation: experts interviewed for the study warn that vocational training in most countries remains too focused on low-skilled occupations to be of use in preparing young people for the automated workplace.

The report warns that if countries want a long-term strategy to deal with the challenges of automation, education must be at the center of it. Automation and AI place even greater need for basic education programs and new types of teacher training. According to the experts interviewed for the report, there is plenty of thinking but very little planning or action on this front anywhere in the world today. "No one has gotten to grips with the required strategic planning for educational change in this context, and there is a dire need for it," says Rose Luckin, professor of learner-centered design at University College London.
Nevertheless, changing curricula is only part of the battle. The tougher part of it is training teachers to be able to impart "21st-century knowledge and skills". "Huge expectations are being placed on educators that somehow they'll be able to change what and how they teach. But who's going to get them ready to do that?" points out Luckin. All five of the top-scoring countries in the education category have at least begun to adapt teacher training.
Furthermore, in an age when technology often changes how individuals work, how do people adapt? According to the report, lifelong learning is a key part of the answer. Creating an institutional framework to support lifelong learning is part of the challenge, and several countries have already started. Singapore and the UAE, OECD members such as Estonia, the US and Canada, as well as middle-income countries Argentina and Brazil.
"Vocational education and training is weak in most developing countries. Their challenge is to enable workers at a later stage in life to continue their education. They need to establish incentives and channels for younger and older workers to do that," advised Francesc Pedro from UNESCO.
ABB and The Economist Intelligence Unit plan to conduct the ARI research annually and revise the rankings each year with the aim to serve as a tool to help governments continually identify and pursue policies that support successful participation in the new automated and digitalized global economy.